Are you looking for a Canister Filter that makes your aquarium clean and ensures crystal-clear water? Fluval is a renowned name in the world of Aquarium lovers. If you happen to have an aquarium at home, you probably acknowledge the importance of having a good and effective filter to maintain a healthy aquarium. Today we're giving you our IN-DEPTH Fluval Canister Filter FX6 review as this is one of the best canister filters in the world.
N.B.: We also talked about this product in our Top-10 Best Canister Filter Review article.
Due to the enclosed construction of the aquariums, it is easy for waste, dirt, and toxic substances to get collected over a period of time and this can have negative effects on your favorite fishes. Not only that but it is also deleterious for the overall state of your aquarium.
However, you can always have a clean and healthy environment for your little species to swim into with the right canister filter. This is where Fluval canister filter FX6 comes to light.
Throughout this review, we have collected all the necessary information you will need to know about this canister filter. Make sure to go through all the different points and our verdict for this product.
Technical Specs Of Fluval FX6
| | |
| --- | --- |
| Specifications | Parameters |
| Aquarium Capacity | 400 Gallons (1500 Liters) |
| Dimension | 15.1 x 15.6 x 20.7 inches |
| Weight | 19.9 Pounds |
| Head Height (Max) | 10.8 feet (3.3 meters) |
| Filter Circulation | 563 GPH (2130 LPH) |
| Pump output | 925 GHP (3500 LPH) |
| Wattage | 43 watt |
| Media Basket | 3 |
| Mechanical Area (Foam) | 325.5 in2 (2,100 cm2) |
| Biological Volume | 1.5 gallons (5.9 liters) |
| Filtration Volume | 5.28 gallons (20 liters) |
| Warranty | 3 years |
Fluval Canister Filter FX6 Review:
Thanks to its advanced features, the canister filter FX6 highlights different filtering techniques that will help support the lives of your fish. it promotes a high and upgraded performance aquarium filtering that is durable and reliable.
Features of Fluval Canister Filter FX6
---
Self-priming start system :
To start off, the Fluval FX6 filter comes with a self-priming start system. Basically, that means once you add the water and plug it in, the canister will be ready for the filtration
procedure. This automatically designed system will make your life much easier. Make sure to give it some time in order to begin the self-priming filtration procedure.
When you are searching for high quality and reliable canister filter, one of the important things to look for is the performance of the canister. You want something that will offer you excellent filtration ability in order to come out with healthy and clean aquarium water.
This model ( Fluval FX6) is recognized for its workload potential when it comes to filtration. It provides an excellent result that lasts for a longer period. You will be amazed by its powerful and ultimate filter performance and management. All the credits go to the Smart pump Technology installed in the Canister.
The motor has an amazing and powerful flow rate which will keep your water running and your tank sparkling. The only downside is the fact that Fluval FX6 canister doesn't include a spray bar that will prevent any damage or harm to your fish.
Large tank size capacity:
Another important and crucial factor when it comes to a canister filter is how much it is able to filter easily and effectively. Now, despite its compact size, Fluval FX6 canister filter comes with a high capacity that enables it to manage vast filtration.
Thanks to this immense capacity, this canister filter is capable of filtering a large aquarium that can reach up to 400 gallons. Compared to other canister filters, not so many can handle such large amounts.
A relatively quiet operation:
Apart from its high-quality performance level, this canister filter works silently. Built-in with a sound impeller dampening mechanism, the canister does not make noise or vibration.
The protective cover helps to diminish the noise from the impeller. With such a quiet operation system, this canister is definitely an ideal model especially since there are certain fishes that do not like vibrations.
Easy installation of Fluval FX6

:
The Fluval canister filter FX6 is easy to install. This is of course if you are familiar with the aquarium canisters before. The product comes with a guideline that will help you set up easily and in a short period of time.
Without a doubt, the manufacturer has made this design construction model easy to handle and put together. Another thing to note, the Fluval design will allow you to clean the canister without removing the joint together hoses. This offers you an excellent easy cleaning procedure.
NB.: One thing to keep in mind when using the FX6 is that it does require regular cleaning in order to ensure optimal performance.
Verdict: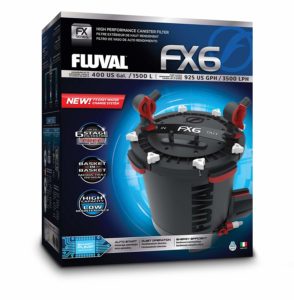 Choosing a canister filter for your aquarium can be such a task. However, this canister filter would be highly recommended if you want something cost-effective, durable, and with such high-performance level.
What appeals to us most about this canister filter is its quality and its upgraded features. Of course, Fluval Canister Filter FX6 will help you sustain the life of your fish by providing excellent and powerful water filtration.
FX6 will help you get rid of all the debris that can rate some negative effects on the health status of your aquarium or your tank. It is a very known and dependable brand that is suitable for a wide variety of aquariums including small and large ones.
PPS Why not check out our Canister Filter Category Page where you will find all of our individual Canister Filter Reviews?
Happy Aquarist!